The safety and health of our patients, staff, and providers are our number one priorities. During this unprecedented time in our lives, you can count on us to continue to assist you with your obstetrical and gynecological needs.
If you have an upcoming visit with us, please call us BEFORE your appointment if you:
are experiencing

any

respiratory illness symptoms (fever, cough, shortness of breath, difficulty breathing, chest pain), OR
have traveled within the past 30 days, OR
have had close contact with a confirmed COVID-19 positive person or person who has been tested for COVID-19 (person under investigation).
It is crucial for anyone experiencing even mild symptoms of respiratory symptoms to stay home and practice social distancing to prevent illness in others. If you have a medical emergency, please call 911 immediately and inform them that you are having symptoms of COVID-19.
In an effort to protect you, your loved ones, our staff, and our providers from the spread of viruses, we kindly ask you to come to your appointment alone. If someone is bringing you to your appointment, we request that they stay in their car during the duration of your visit. Please do not bring your children to your appointment. Please call us before coming to your appointment if you have any questions about this.
Please also note that the CDC and Governor Northam recommend Virginians wear face masks in public. We ask that you bring your own mask to wear when you come to your appointment. By wearing your mask, you are doing your part to help limit the spread of COVID-19.
For reliable information and for resources related to COVID-19, please visit our Patient Resources section of our website.
INFORMATION ABOUT VIRTUAL VISITS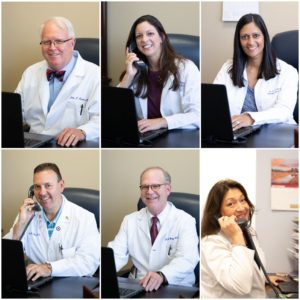 We were offering Virtual Visits for our patients, but most insurance companies are no longer covering this service. If insurance companies start covering virtual visits again, instead of an appointment in the office with us to address your concern, we will schedule a Virtual Visit where the provider will connect with you through audio/video on your computer or smartphone.
During this Virtual Visit, the provider will provide the service of evaluating and treating the concern you are being scheduled for and we will bill for this service just like when you have an appointment in our office. Most insurance companies are covering Telemedicine/Virtual Visit services, but for specific plan benefits, including patient out of pocket costs, we would encourage you to reach out to your insurance company for the most accurate and up to date benefit information.
In order to determine if your appointment meets the criteria and guidelines for having a Virtual Visit with us, please call our office.